As an Amazon Associate I earn from qualifying purchases.
Enjoy the powerful nutritional benefits and beautiful green color of spinach without the flavor in these moist and fluffy banana spinach pancakes! Dairy-free, egg-free, refined sugar-free, vegan, & optionally gluten-free!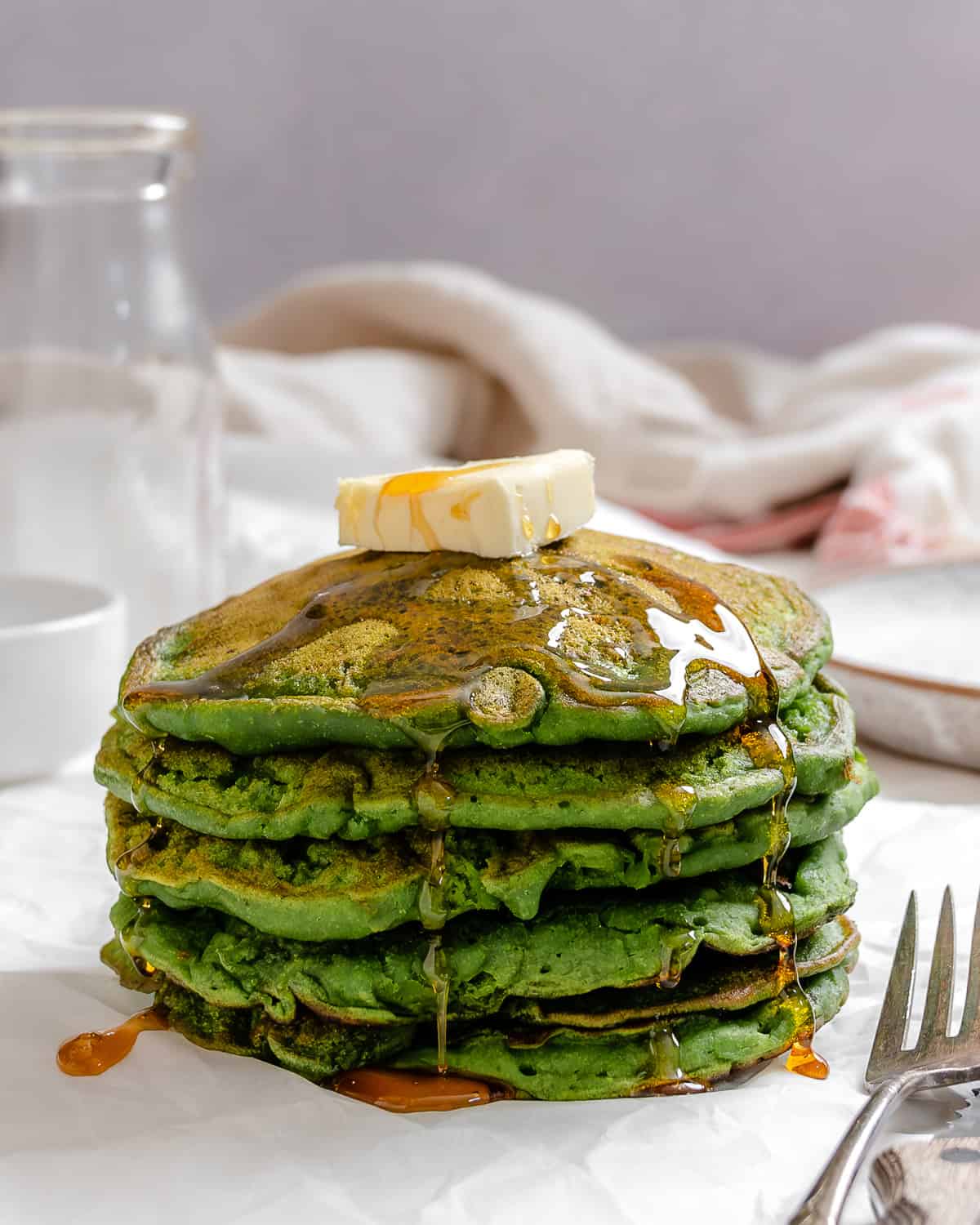 Fluffy, Nutrient-Dense Vegan Spinach Pancakes
As at home as these vibrant green pancakes would be on St. Patrick's Day or Halloween, there's no need to wait for a special occasion to hide extra nutrients in your breakfast with these delicious banana and spinach pancakes.
In fact, these child-approved spinach pancakes can be on your dining room table in just 40 minutes any day of the week and are a fun, nutritious step up on regular banana pancakes.
Why You'll Love This Spinach Pancakes Recipe
Packed with hidden nutrients! Spinach is a rich source of fiber and several nutrients, including vitamins A, C, and K, as well as iron, calcium, and folate.
Easy to make! Just a few pantry ingredients (+ no artificial colors/dyes!), a blender, one bowl, and a skillet will get these spinach banana pancakes on your table in 40 minutes.
Adaptable! You can make them gluten-free, use whole wheat flour, sugar-free, replace the banana, or even make them savory.
Taste great! Even with all that spinach, you can't taste the greens (like our pineapple kale smoothie!) other than the tiniest hint of earthiness. Instead, they just taste like delicious vegan banana pancakes.
Child & fussy eater approved! Spinach pancakes are perfect for sneaking in greens they won't otherwise eat without realizing they're eating something healthy.
Meal prep friendly! You can prepare the batter in advance, and the cooked pancakes will store well in the fridge or freezer.
The Ingredients
Turn to your fridge and pantry for this simple 8-ingredient vegan spinach pancakes recipe made with all common ingredients.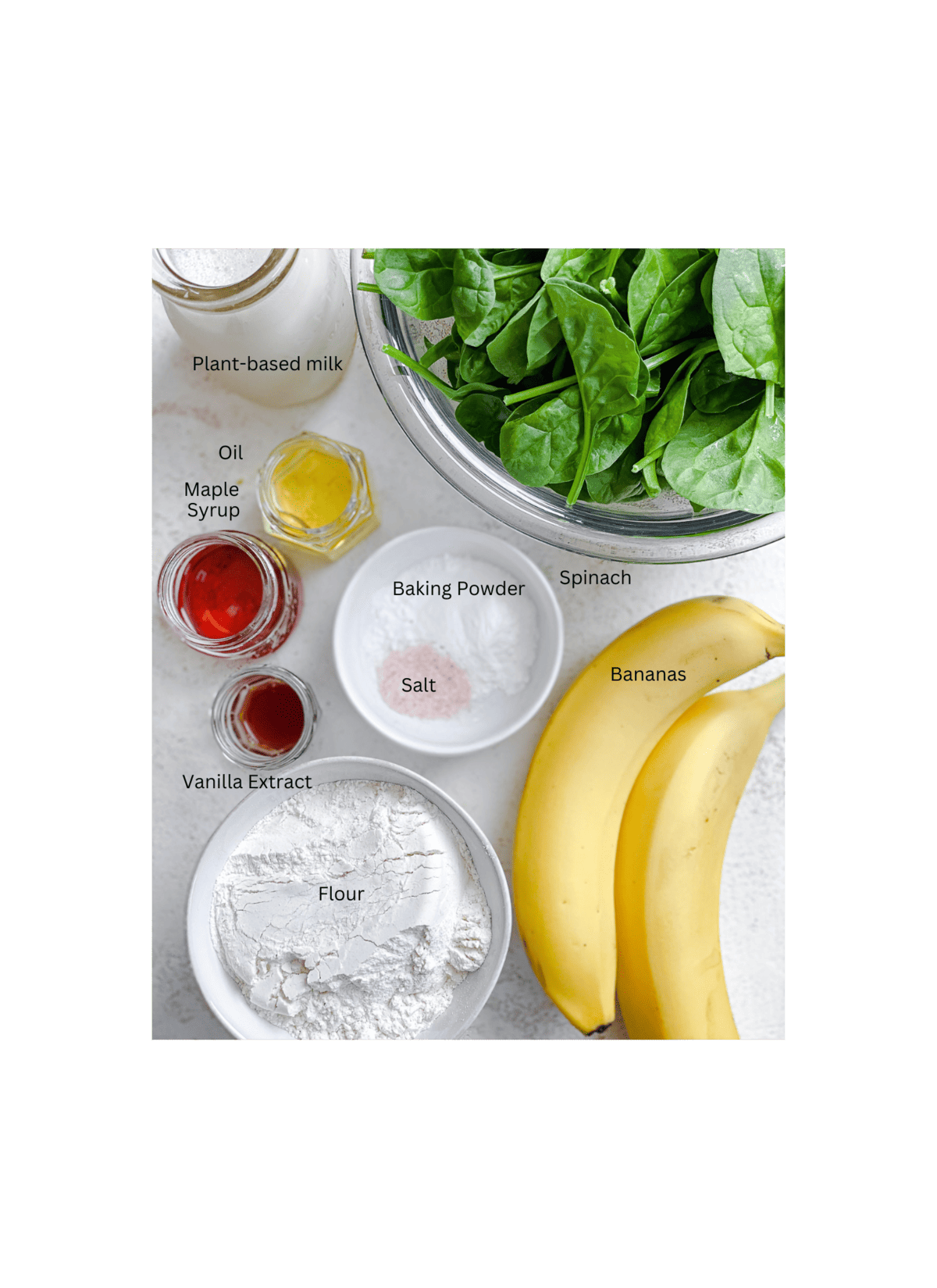 Spinach: We prefer the milder flavor of baby spinach, though regular spinach works, too. If you want to use frozen spinach, thaw it and squeeze out all excess liquid. Baby kale may also work, though we haven't tried it.
Banana: Use an over-ripe banana (soft with plenty of black spots). It will act as a binder and natural sweetener in these egg-free, healthy spinach pancakes.
Vanilla extract: Use natural vanilla to avoid an artificial aftertaste.
Sweetener: We often used maple syrup or agave, though granulated brown sugar or even a sugar alternative will work, too.
Plant-based milk: Use any. i.e., almond milk, soy milk, coconut milk, etc.
Flour: You can use 100% all-purpose flour, a 50/50 blend of AP and whole wheat flour, or even experiment with buckwheat or spelt flour.
Baking powder: To help make fluffier, puffed-up American-style pancakes.
Salt: To balance and enhance the flavors.
Oil: Use neutral cooking oil (like vegetable oil) or unsalted vegan butter for pan-frying.
What Could I Add To The Pancakes?
Since the spinach flavor is unnoticeable in these pancakes, you can essentially treat them just like regular vegan banana pancakes and add flavor/ texture with:
Cinnamon, nutmeg, or pumpkin spice
Blueberries/raspberries/strawberries
Raisins
Dairy-free chocolate chips
Shredded coconut
Chopped nuts (walnuts, pecans, etc.)
Plant-based protein powder (replace some flour with a scoop of protein powder)
How to Make Banana Spinach Pancakes
1) First, combine the plant-based milk and spinach in a blender and blend until smooth.
2) Meanwhile, add the remaining ingredients (minus the oil) to a large mixing bowl and whisk. Then, slowly pour in the spinach milk, gently mixing/whisking it into a batter.
Alternatively, pour the remaining ingredients directly into the blender. A few small lumps are okay—just be careful not to overwork the batter.
Depending on the flour used, you may need to slightly adjust the liquid amount. Also, spelt flour pancake batter benefits from 15 minutes of resting time before using it.
3) Heat a small amount of the oil (or vegan butter) in a large non-stick skillet over medium-high heat. Once hot, use a ½ cup measuring cup or equivalent to scoop batter into the pan and spread it slightly with the bottom of the cup. Repeat with as many pancakes you can fit in your pan.
4) Once bubbles form on the pancake surface, carefully flip them over and cook for a further 2-3 minutes until lightly browned. Repeat with the remaining batter, then serve the spinach pancakes with your favorite toppings (like vegan butter and maple syrup) and enjoy!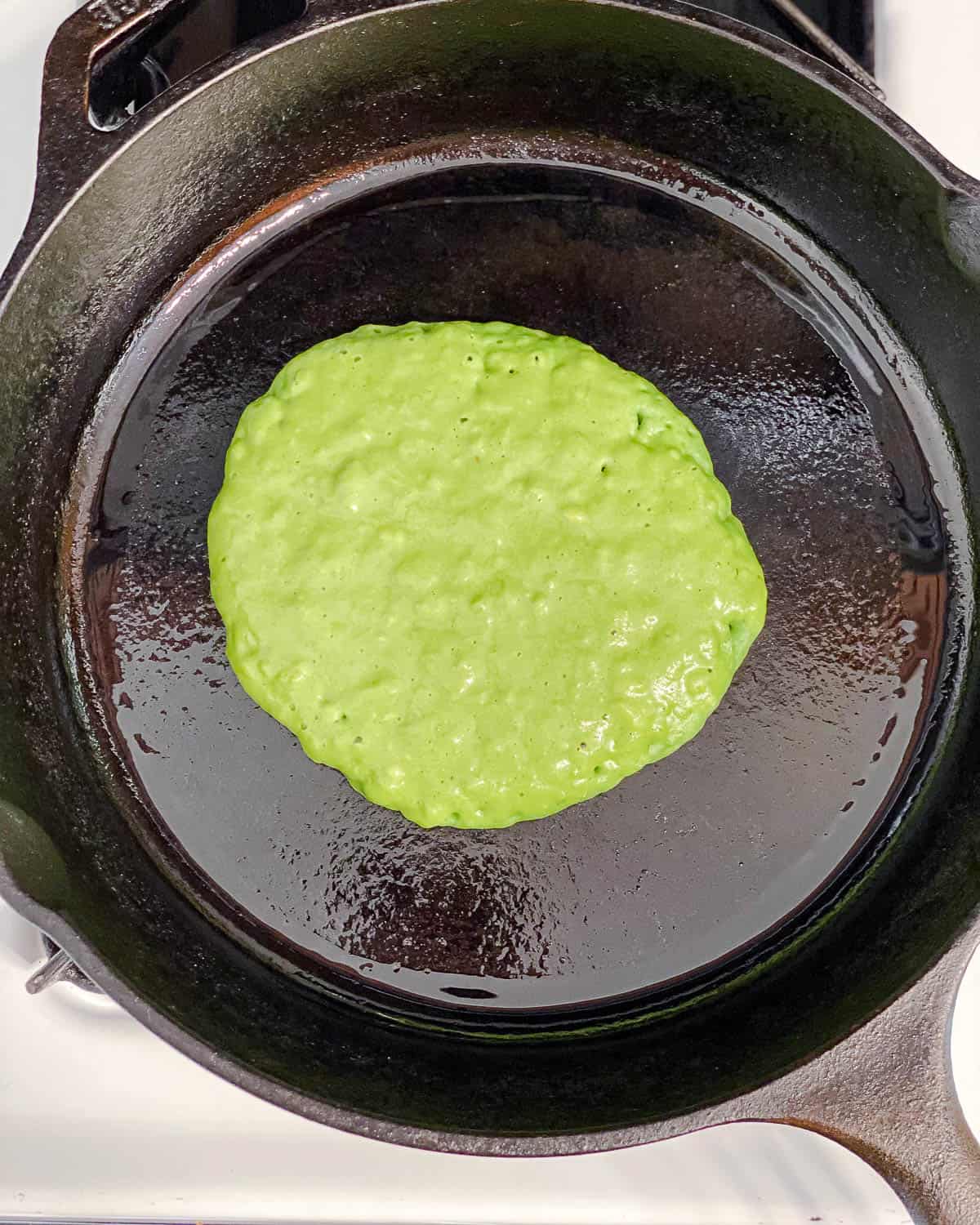 Optionally keep the pancakes warm in a preheated oven (side by side, not stacked) at 200F/95C while you make more batches.
FAQs
Can I make vegan gluten-free pancakes?
You could use a 1:1 substitute of all-purpose gluten-free flour. They may not be as fluffy, but it should work.
Can I substitute the banana?
You could try the recipe with other pureed ingredients. We've made successful pancakes and bakes with unsweetened applesauce, mashed sweet potato, pumpkin puree, or even mashed avocado (which may work well for making savory spinach pancakes).
Thick Greek-style dairy-free yogurt may work too, though we haven't tried it.
Can you taste the spinach in these banana pancakes?
No. When combined with the banana, sweetener, and other ingredients, the flavor practically disappears, leaving the most subtle of 'earthy' undertones.
Can you make the pancake batter ahead?
Yes, you can make the batter 1-2 days in advance and store it in a covered bowl in the refrigerator, though it's best to omit the baking powder until just before cooking them.
When you want pancakes, allow the batter to come to room temperature for 20 minutes, stir in the baking powder, and cook the pancakes.
Can I make waffles with this spinach pancake batter?
We haven't tried, though we can't see why not.
Top Recipe Tips
Use a blender, not a food processor: The latter may struggle to blend spinach smoothly.
Avoid over-mixing the batter: This overworks the gluten and leads to dense, rubbery pancakes. Leave the batter to rest (for the gluten to relax) for 20 minutes if needed.
Use fresh baking powder: If it's no longer working, the pancakes won't puff up and become fluffy inside.
Preheat the pan: This ensures evenly cooked pancakes.
Make a test pancake: That way, you can adjust the temperature and timings if needed without wasting too much batter.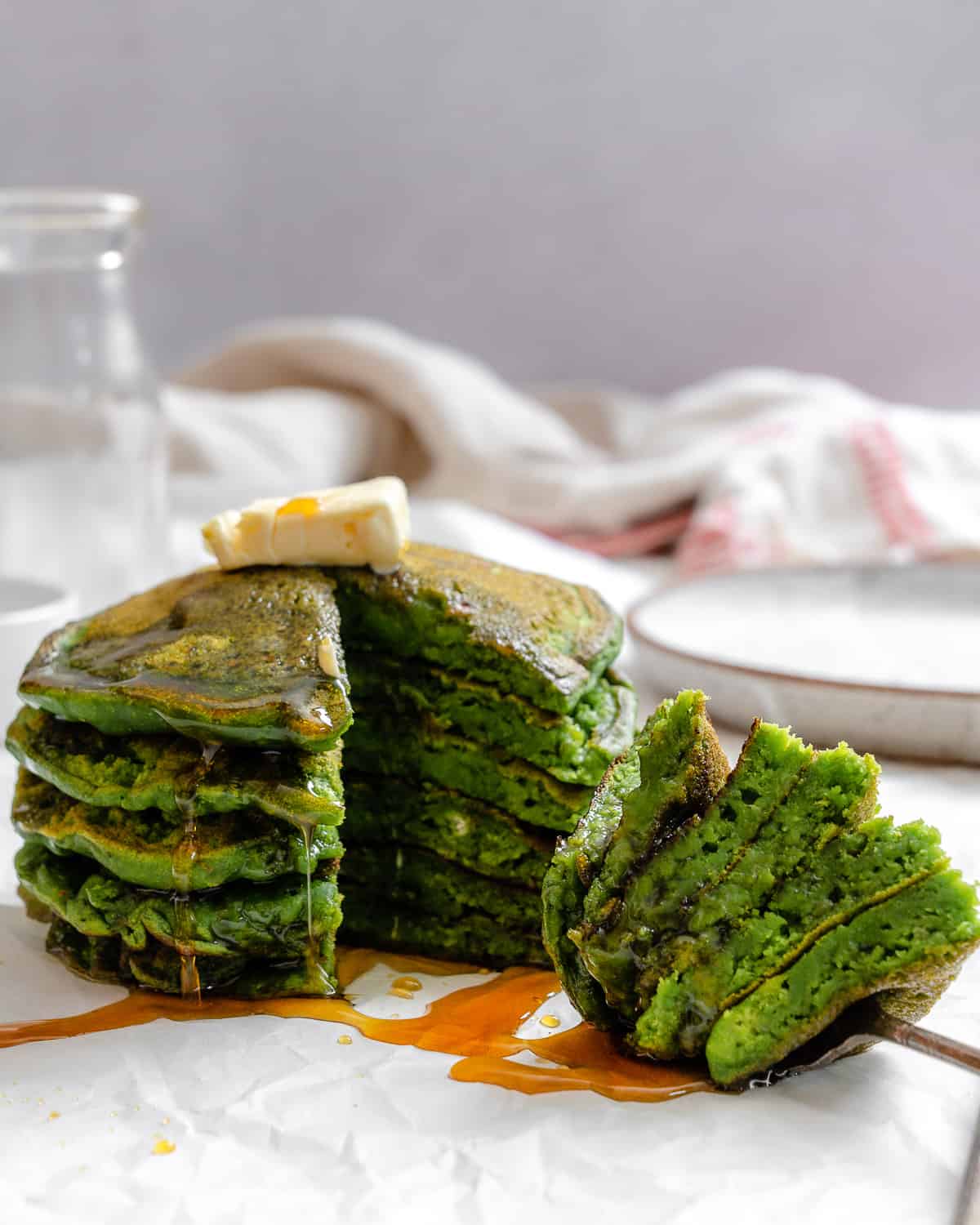 The Best Vegan Pancake Toppings
Here are just a few toppings you might enjoy with these spinach pancakes.
Dairy-free butter
Maple syrup, agave, or other syrup
Coconut whipped cream
Dairy-free yogurt
A scoop of vegan vanilla ice cream
Nut butter/seed butter or vegan chocolate hazelnut spread
Add a sprinkle of pecans or other crushed nuts/seeds OR granola
Apple or berry compote
Fresh berries/banana slices
You can also use the pancakes as 'bread' to make delicious pancake sandwiches.
Storage Instructions
Store: Allow the spinach pancakes to cool and store them in an airtight container with parchment paper between the layers (to avoid sticking) for 3-5 days.
Freeze: Spread the cooled pancakes across a large tray with space between them and flash freeze until solid. Then transfer them to a Ziplock/Stasher bag for up to 2 months. You can reheat them from frozen or thaw them in the fridge overnight first.
Reheat: You can reheat these vegan spinach pancakes either in the microwave (from frozen or chilled), a toaster oven, or (for large batches) in the oven at 350F/175C until heated through (about 10 minutes).
More Sweet Breakfast Recipes
Photos by Alfonso Revilla
In a blender, mix together the plant-based milk and spinach until there are no spinach chunks left.

Add the remaining ingredients to a large mixing bowl. Pour in the green milk and gently mix until the batter is smooth.

Preheat a nonstick pan over medium-high heat. If you don't have a nonstick pan (or your nonstick pan needs a bit more slip), you can lightly oil the pan.

Scoop out the batter with a ½ measuring cup and pour onto the preheated pan. Once bubbles begin to form, flip the pancake over and cook the other side until light brown. Remove from the heat and repeat until all the batter is cooked.
Use a blender, not a food processor: The latter may struggle to blend spinach smoothly.

Avoid over-mixing the batter: This overworks the gluten and leads to dense, rubbery pancakes. Leave the batter to rest (for the gluten to relax) for 20 minutes if needed.

Use fresh baking powder: If it's no longer working, the pancakes won't puff up and become fluffy inside.
Calories: 416kcalCarbohydrates: 90gProtein: 9gFat: 3gSaturated Fat: 0.3gPolyunsaturated Fat: 1gMonounsaturated Fat: 1gSodium: 1195mgPotassium: 727mgFiber: 6gSugar: 25gVitamin A: 2900IUVitamin C: 22mgCalcium: 432mgIron: 5mg
Disclaimer: Although plantbasedonabudget.com attempts to provide accurate nutritional information, kindly note that these are only estimates. Nutritional information may be affected based on the product type, the brand that was purchased, and in other unforeseeable ways. Plantbasedonabudget.com will not be held liable for any loss or damage resulting for your reliance on nutritional information. If you need to follow a specific caloric regimen, please consult your doctor first.