As an Amazon Associate I earn from qualifying purchases.
This hearty red lentil stew is thick, flavorful, packed with veggies, and loaded with plant-based protein, fiber, and nutrients to warm your belly and satisfy without weighing you down! Just one pot under an hour makes this frugal, gluten-free, dairy-free, vegan stew (crock pot and Instant Pot methods included)!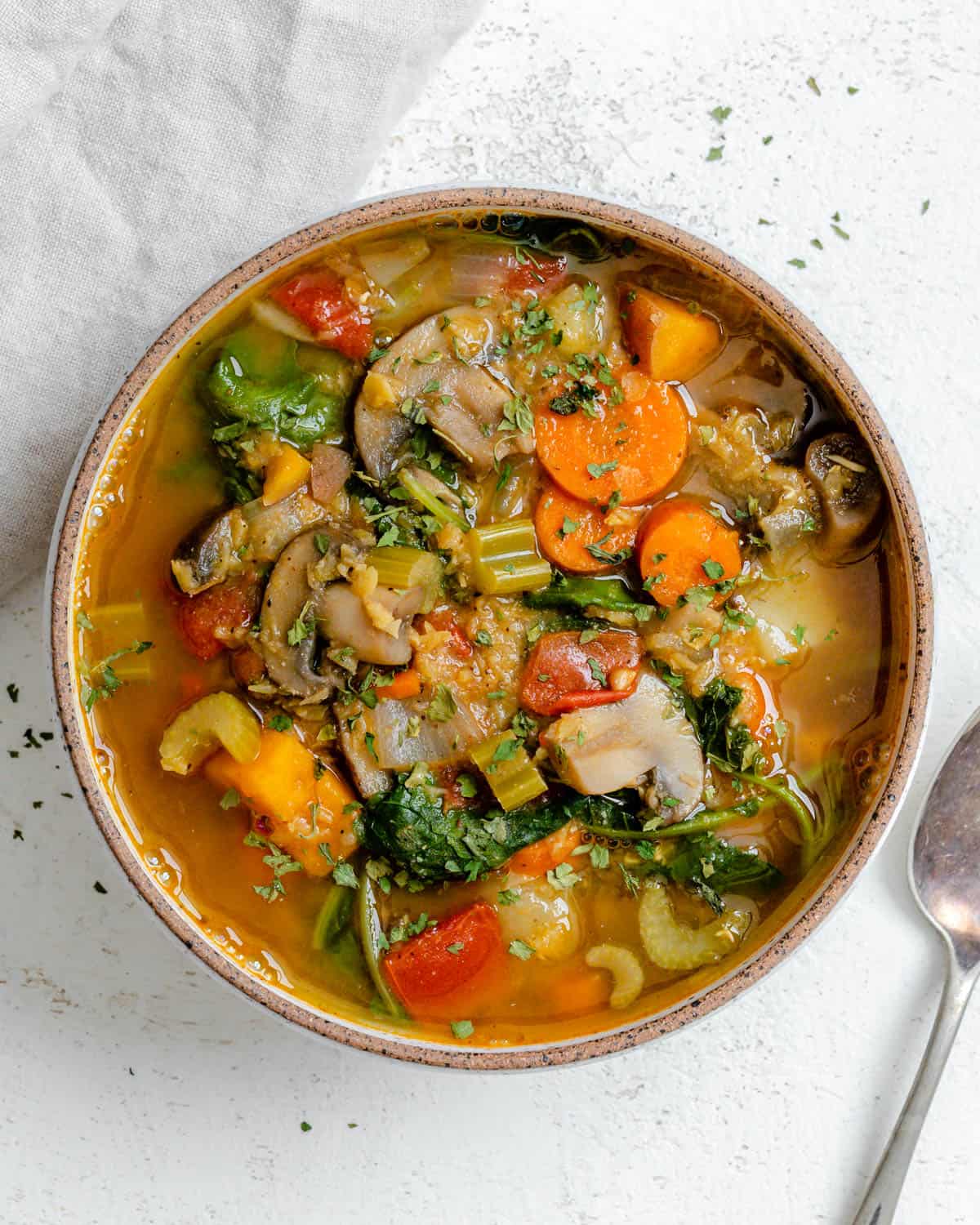 Super Hearty Vegan Lentil Stew with Mixed Vegetables
Spring isn't here just yet, so we're still well within stew and soup season and loving it. Along with Mexican bean soup and vegetable barley soup, this easy red lentil stew recipe has become a go-to. It's a simple, healthy, meatless meal for the entire family that's cozy, nourishing, and flavorful despite its simple ingredient list.
Lentils are one of our favorite budget-friendly pantry ingredients. They're loaded with fiber, plant-based protein, and several beneficial plant compounds and micronutrients like iron, folic acid, potassium, and B vitamins (among others). This makes them perfect for nutritional, meat-free, protein-rich vegan bolognese, meatballs, and this hearty vegan stew.
For this lentil stew recipe, we're relying on red lentils, which cook quickly and break down when cooked, unlike other lentils, for a truly thick and hearty veggie stew. When combined with plenty of your favorite veggies (primarily those we already have in our kitchen), this stew is not only super wholesome, but it makes for an inexpensive, pantry-friendly meal you can whip up whenever the fancy takes you.
The Ingredients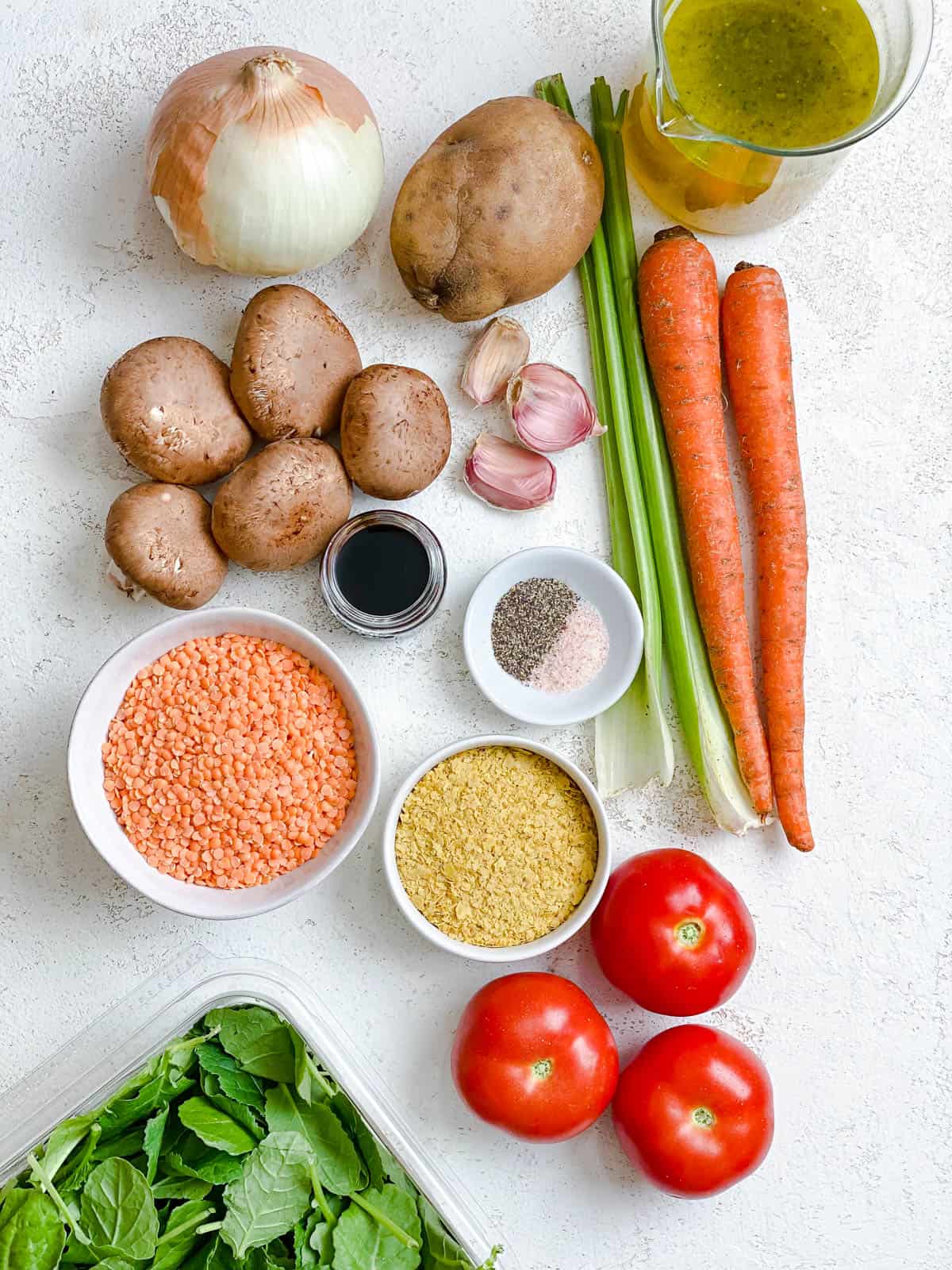 Lentils: For this lentil stew recipe, you'll need red lentils. No need to soak them first.
Garlic: Fresh garlic cloves are best, but powdered garlic works in a pinch.
Vegetables: We use a classic mirepoix base of yellow onion, carrot, and celery, with

Mushrooms (optional. I.e., cremini, white, button, chestnut, etc.)

Kale (or spinach, Swiss chard, collard greens, etc.)
Potato (russet or sweet potato)
Tomato (either 1 medium or several smaller plum tomatoes)

Vegetable broth: Use regular or reduced-sodium broth or bouillon mixed with water.
Balsamic vinegar: This adds brightness and makes a more complex veggie stew. Alternatively, red wine vinegar, apple cider vinegar, or lemon juice may work.
Seasonings: We use a simple combination of nutritional yeast (for umami and 'cheesiness'), sea salt (or soy sauce for extra umami), and black pepper.
You can optionally garnish the stew with some vegan plain yogurt and a sprinkle of fresh herbs like cilantro or parsley.
What Else Could I Add?
There are several ways you can adapt the base of this easy lentil stew recipe. Here are just a few of our favorite options.
Spices: You could choose from several spices (or mix & match) to add complex flavor depth to the lentil vegetable stew. Start with a pinch of each and increase to taste.

Smoked paprika (for smoky flavor)

Chili/cayenne pepper (for spice)
Ground cumin (for earthy, savory flavor)

Herbs: Add depth with options like fresh or dried thyme and rosemary.
Bay leaves: Add 1-2 to simmer in the vegan stew for more depth.
Vegan sausage: Add some chopped vegan sausage to boost the protein further in this vegetable stew recipe.
More vegetables: One of the easiest ways to adapt this lentil and vegetable stew recipe is with the veggies you use. Swap out or add more veggies like zucchini, broccoli, cauliflower, peas, shredded cabbage, corn, eggplant, bell peppers, etc.
How to Make Vegan Lentil Stew?
There are several ways to prepare this one-pot red lentil stew: whether on the stove in under an hour, in an Instant Pot, or as a set-and-forget slow cooker meal.
1) First, sort through (to remove debris) and rinse the lentils. Then, finely dice the onion, carrot, celery, and mushrooms. Also, chop the potato and tomatoes, de-stem and chop the kale, and mince the garlic.
2) Then, heat a large saucepan or wide, deep skillet over medium-high heat with a tablespoon of oil.
3) Once hot, sauté the onion, garlic, carrot, celery, and mushrooms for 2-4 minutes or until they begin to soften.
4) Add the tomato, kale, red lentils, and vegetable broth, and stir well, then bring to a gentle boil.
The liquid should sit about ½-ich above the veggies and lentils. If not, add a little water or more broth.
5) Reduce the heat to a simmer, cover, and cook for 30-40 minutes until the vegetables are tender and the lentils are fully cooked.
6) Stir in the nutritional yeast and balsamic vinegar, and season to taste. Then enjoy!
If you want to add extra herbs or spices, now is the time to do that.
Slow Cooker Lentil Stew
Complete steps 1 to 3 as written above, then in step 4, transfer everything to a slow cooker. Cover and cook over LOW for 4-6 hours (check and add more broth at any point if needed). Stir in the final ingredients, and enjoy!
FAQs
Can I use other lentils?
Yes, but the cooking time may increase depending on which lentils you use. The overall texture of this hearty lentil stew will change, too, as brown/green lentils don't break down the same way red ones do.
Can I make red lentil stew in an Instant Pot?
Use the sauté function for the first 3 recipe steps, then add the tomato, kale, vegetable broth, and lentils. Stir well, then cover and cook on manual HIGH pressure for 10 minutes. Once the timer goes off, carefully do a quick release and stir in the last ingredients.
Top Recipe Tips and Notes
To save time: You could use pre-prepared vegetables from the grocery store like a mixed mirepoix (onion, carrot, and celery), sliced mushrooms, prepared kale, etc.
Adjust the consistency: The size and shape of the chopped veggies will adjust the overall texture of the vegan vegetable stew.
For a thinner stew: By using red lentils, which break down, this stew is naturally very thick. Add extra broth for a thinner stew (add lots, and you'll end up with hearty red lentil soup).
Stir often: So the lentils/ vegetables don't stick to the bottom of the pan and burn.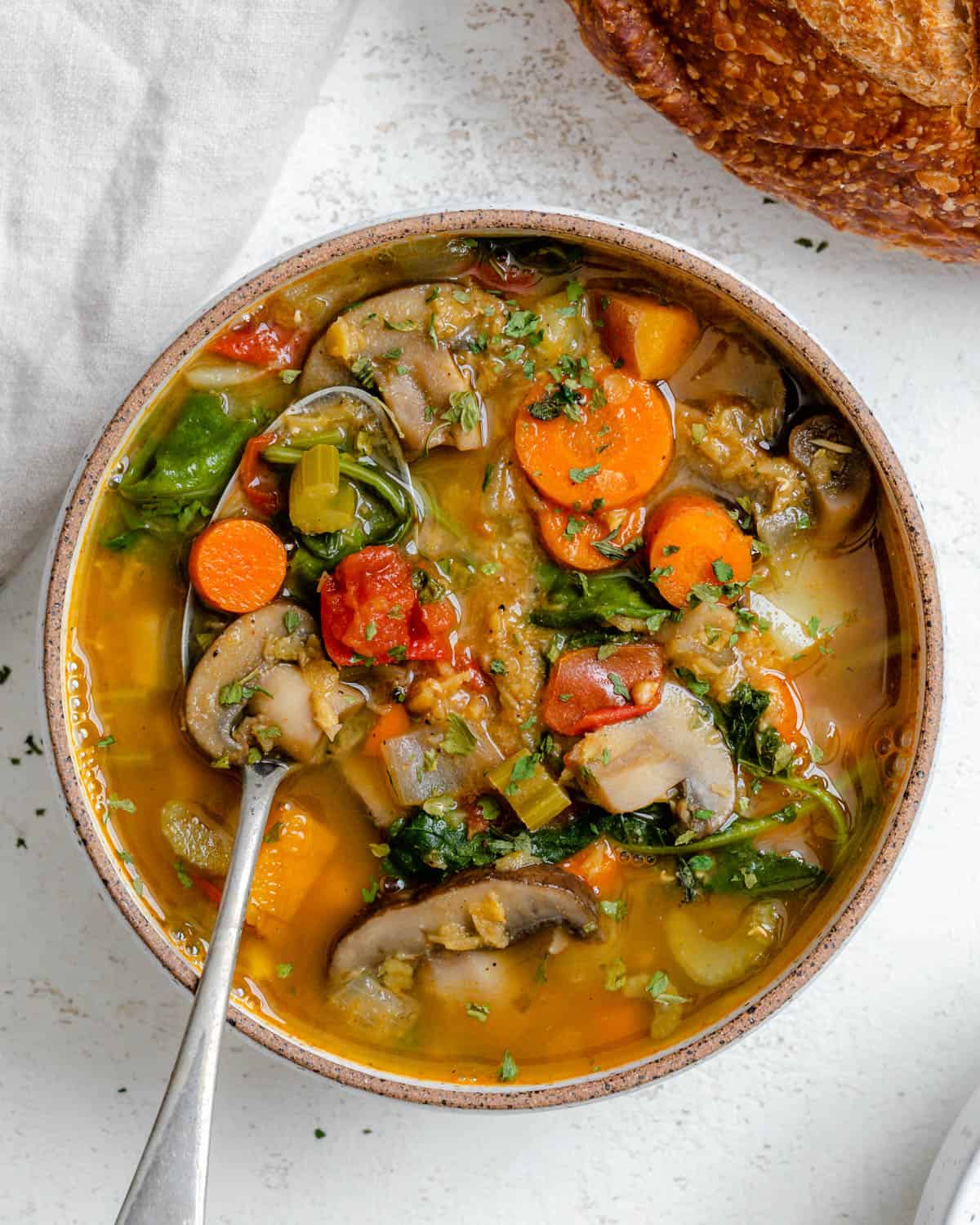 What to Serve with Red Lentil Stew?
With a combination of high-protein lentils and several hearty veggies, you can enjoy a portion of this hearty vegetarian stew on its own or pair it with:
Toasted bread or flatbread
Garlic bread
A vegan grilled cheese
A simple leafy green side salad
Mashed potato or over a baked potato
How to Store?
Once cooked, store any leftover lentil vegetable stew in an airtight container in the fridge for up to 5 days. It'll taste even better on day 2!
You can also freeze it in Ziplock/Stasher bags or freezer-safe containers for up to 3 months. Then leave it to thaw in the refrigerator overnight before reheating.
You can reheat the red lentil stew in a microwave (1-2 minutes) or on the stovetop over medium-low heat until warm. If it's too thick, add extra broth or water.
More Vegan Lentil Recipes
Photos by Alfonso Revilla
1

yellow onion,

diced

3

garlic cloves,

chopped

1

small

russet potato

(or any potato, sweet potato as well)

1-2

stalks

of celery,

sliced (optional, but adds flavor and nutrition)

4-5

crimini mushrooms,

quartered or sliced (optional)

1-2

carrots, sliced

1

cup

of red lentils,

uncooked, do not need to soak

4

cups

of vegetable broth

(1 carton)

1

medium

tomato

(or a few plum tomatoes) chopped

5-6

kale leaves,

de-stemmed and chopped (any other cooking green will work as well)

½

cup

of nutritional yeast

1-2

tablespoons

of balsamic vinegar,

to taste

1

teaspoon

of salt,

or to taste

Black pepper ,

to taste

Optional add-ins: broccoli, cauliflower, peas, cabbage, kohlrabi, corn, beans, smoked paprika, fresh herbs, etc
Add 1 tablespoon medium-high heat oil to a deep skillet or a medium/large pot. Saute onion, garlic, potato, celery, mushrooms, and carrot over medium heat for 2-3 minutes until starting to soften.

Add red lentils, vegetable broth, tomato, and kale. Stir well, the liquid should sit just above (½' or so) lentils and veggies, if not, add a bit of water. Bring to a gentle boil (for 1-2 minutes), then lower to a simmer and cover. Let cook undisturbed for 30-40 minutes. You can also throw everything in a slow cooker and cook on low heat for 4 hrs.

Lentils and tomatoes should be broken down, and potatoes and all other veggies should be soft but intact. Add nutritional yeast, vinegar, salt, and pepper to taste. You can add any fresh herbs and spices at this point as well. Serve hot with toasted bread, crackers, or a side salad. Enjoy!
Adjust the consistency: The size and shape of the chopped veggies will adjust the overall texture of the vegan vegetable stew.

For a thinner stew: By using red lentils, which break down, this stew is naturally very thick. Add extra broth for a thinner stew (add lots, and you'll end up with hearty red lentil soup).

Stir often: So the lentils/ vegetables don't stick to the bottom of the pan and burn.
Calories: 284kcalCarbohydrates: 51gProtein: 19gFat: 2gSaturated Fat: 0.2gPolyunsaturated Fat: 1gMonounsaturated Fat: 0.2gSodium: 1580mgPotassium: 1231mgFiber: 20gSugar: 7gVitamin A: 10442IUVitamin C: 79mgCalcium: 235mgIron: 6mg
Disclaimer: Although plantbasedonabudget.com attempts to provide accurate nutritional information, kindly note that these are only estimates. Nutritional information may be affected based on the product type, the brand that was purchased, and in other unforeseeable ways. Plantbasedonabudget.com will not be held liable for any loss or damage resulting for your reliance on nutritional information. If you need to follow a specific caloric regimen, please consult your doctor first.