As an Amazon Associate I earn from qualifying purchases.
This easy Thai peanut salad (peanut slaw) combines fresh, crunchy veggies with a creamy, tangy, sweet, savory peanut dressing in just 10 minutes—perfect for pairing with a plant protein and enjoying as a main or side dish at picnics, potlucks, BBQs, or a mid-week meal!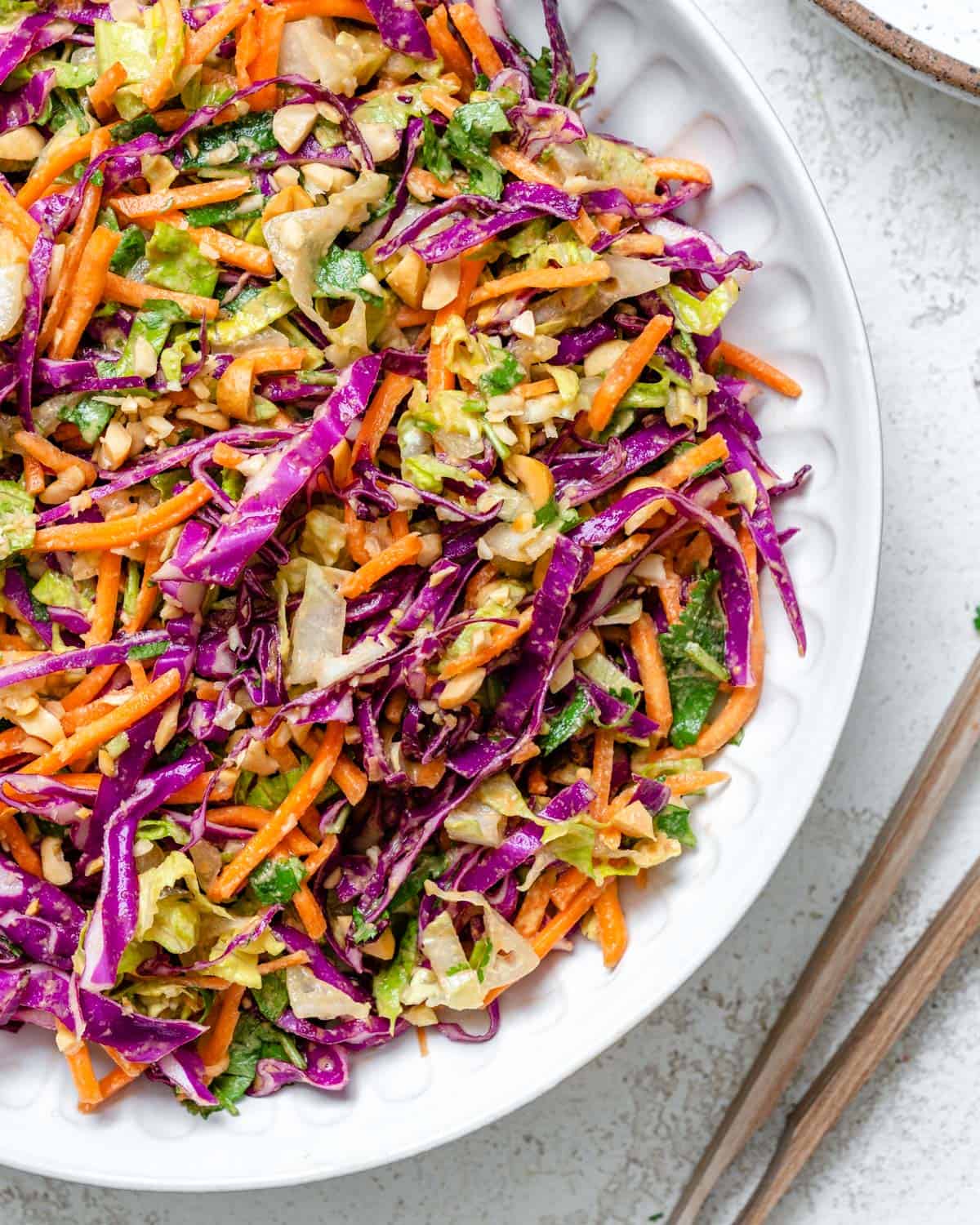 Fresh and Creamy Thai Crunch Salad with Peanut Dressing
If you or someone you know isn't a fan of salads, we think you/they just haven't tried the right one. Sure, limp lettuce and a few chopped tomatoes aren't going to inspire much.. but have you ever tried a recipe like this crunchy Thai peanut salad?
If anything, this Thai cabbage salad is closer to a slaw than a traditional salad, with a combination of shredded crunchy vegetables like cabbage, lettuce, and carrot. The difference is that it's doused in a super creamy peanut butter dressing for a crisp, flavorful, filling, nutritious, and satisfying Thai crunch salad.
Not only is this recipe made with simple, inexpensive, highly nutritious ingredients and easy to throw together in just minutes, but the addictively creamy, tangy, slightly salty, slightly sweet peanut salad dressing will have you coming back for more.
When combined, all the ingredients make for a salad full of flavor, color, and texture, along with tons of fiber, plant-based protein, antioxidants, and several vitamins and minerals in every bite. So enjoy it as a light dinner tonight and save the leftovers for lunch tomorrow—you won't regret it. Did we mention it's gluten-free, low-carb, vegan, and can be made keto-friendly and nut-free, too?!
Have any leftover peanut sauce? It's ready to make almost any dish 100x better. Pour it over buddha bowls, noodles, other salads, baked tofu, and more! Why not also try more flavor-packed salads, like Mediterranean quinoa salad, mixed bean salad, or sweet potato salad.
The Ingredients
Just 10 frugal yet nutrient-dense ingredients are all you need to pull together this Thai peanut salad recipe.
The Peanut Slaw
The vegetables: This salad uses a selection of

Shredded romaine lettuce (or iceberg lettuce/ shredded kale)

Shredded red cabbage (or green cabbage/ a combination of the two)
You could use pre-packaged bagged coleslaw mix to save time, but the Thai peanut slaw won't be as fresh or crunchy.
Cilantro: Use fresh cilantro and adjust the amount to taste, or use 50/50 cilantro and green onions.
The plant protein: (optional) We used edamame for this version, but you could also use chickpeas, tofu, tempeh, seitan, or a store-bought vegan chicken alternative.
Peanuts: (optional) Add some chopped peanuts for a crunchy garnish, raw or roasted but unsalted work best. Sesame seeds or chopped almonds also work.
The Thai Peanut Salad Dressing
This creamy peanut salad dressing really takes this vegan Thai salad to the next level, so you'll want to come back to it time and time again.
Peanut butter: Use a creamy peanut butter. Almost butter works in a pinch, but the flavor will change.
Garlic and ginger: Fresh is best, but you can use garlic and/or ginger paste, too.
Soy sauce: Use regular or reduced-sodium soy sauce. If gluten-free, use tamari or coconut aminos.
Apple cider vinegar: For tang. Alternatively, use unseasoned rice vinegar. Add depth by using 50/50 vinegar and lime juice.
Maple syrup: Or another sweetener like agave or even brown sugar (though liquid sweeteners work best). To make a keto/sugar-free version, use a sugar substitute like sugar-free maple syrup or erythritol.
You'll also need some water to achieve the correct dressing consistency.
Optional Add-Ins
Noodles: A cold peanut noodle salad is one of the most popular variations. You can use any of your favorite noodles, like thin or flat rice noodles, soba noodles, etc.
Quinoa: Instead of noodles, adding quinoa is another popular option and helps to add extra fiber and plant-based protein. Millet would also work.
Avocado: For more heart-healthy fats and creaminess.   
Other veg: You can experiment with many crunchy veggies, like thinly sliced bell peppers, cucumber, or sugar snap peas, and shredded Brussels sprouts or broccoli.
Mango: Thinly sliced to add juicy sweetness to the Thai cabbage salad.
Lime slices: To serve with the Asian peanut slaw for added brightness.
Chili: Use minced red chili/ jalapeño (remove stem and seeds first) to add heat to the Thai peanut salad. Alternatively, add red pepper flakes or sriracha to the dressing.
Sesame oil: Add a small amount to the dressing for a toasty, nutty depth.
Fried shallots: To garnish for crunch.
How to Make Thai Peanut Salad?
1) First, mince the garlic and ginger, combine all the Thai peanut dressing ingredients in a small bowl, whisk until smooth and creamy, and set aside.
Alternatively, add everything to a mini food processor/blender and blend until smooth and creamy. Start with a little water and increase until it reaches a good salad dressing consistency.
2) Meanwhile, prepare all the salad ingredients by shredding the lettuce, cabbage, and carrots and transferring them to a large bowl with cilantro and the plant protein of your choice.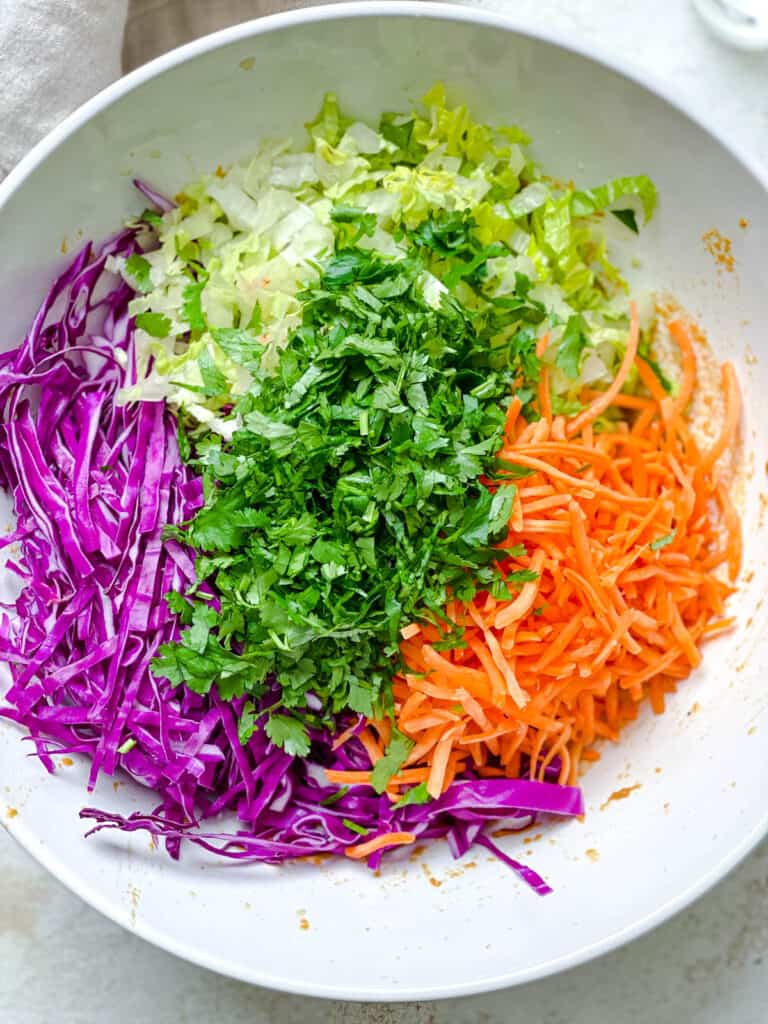 3) Toss the Thai cabbage salad with the dressing, then serve, optionally sprinkling the salad with chopped peanuts to garnish. Enjoy!
It's best to only add the dressing just before serving for the crunchiest peanut coleslaw/ salad.
FAQs
How to shred cabbage?
First, remove any wilting outer leaves, cut the cabbage in half, and cut out the tough core using a V-shaped cut. Then, cut the two cabbage halves into half again and use a long, sharp knife, food processor shredding disk, or a mandoline to slice it as thin/thick as needed.  
Can I make it without peanuts?
Though the flavor won't be the same, you can use almond butter and chopped almonds for a peanut-free Thai crunch salad. As a bonus, this version is also paleo-friendly. For a nut-free version, try sunflower seed butter.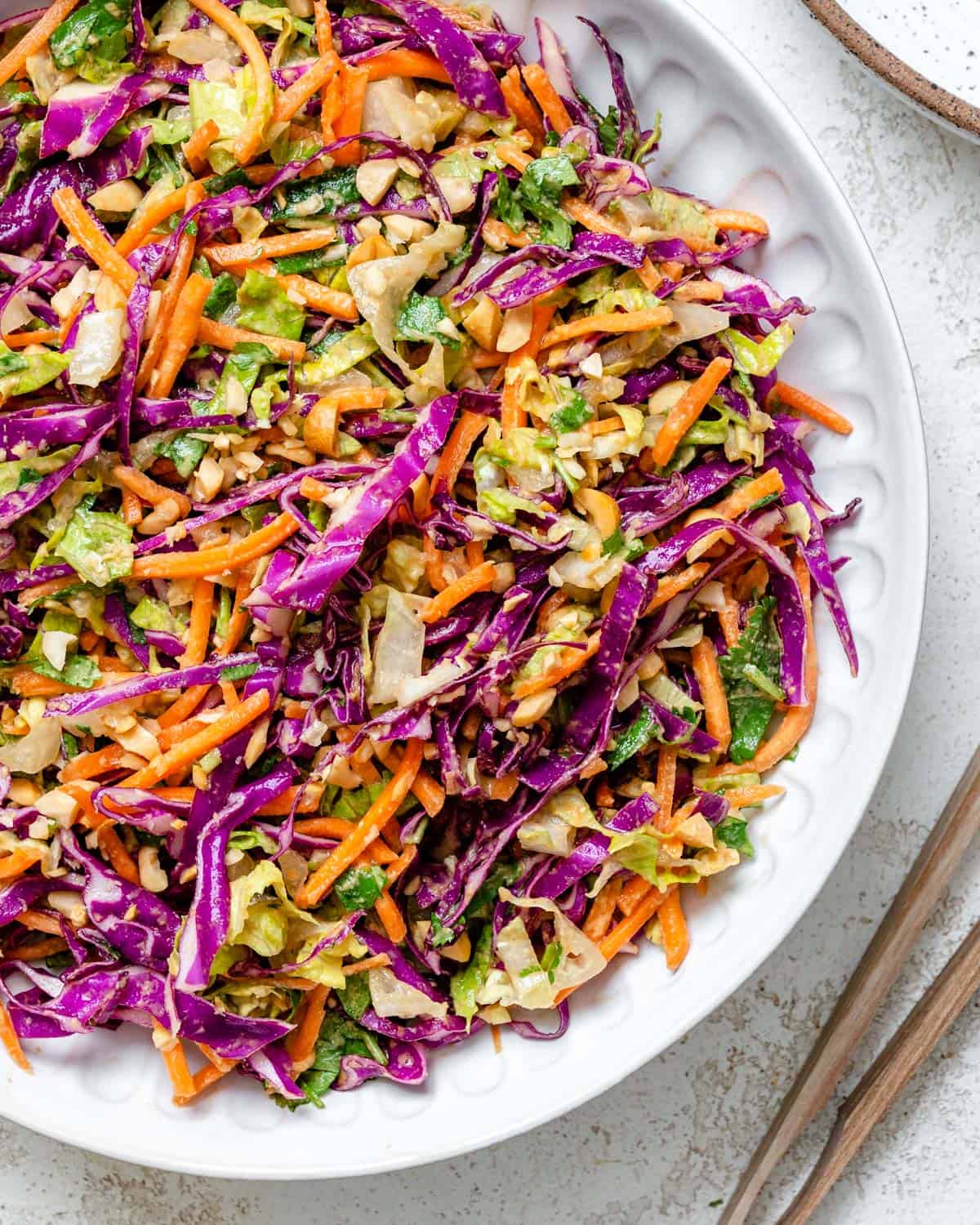 Recipe Notes
For a well-balanced meal: Make sure to include an added plant protein. For a heartier meal with carbs, also add noodles or quinoa.
To save time: Use pre-shredded ingredients or use a food processor shredding disk to get the job done in practically seconds.
Allow it to marinate: We recommend preparing the dressing in advance to allow the flavors to meld. An hour is great, but overnight is even better.  
Tweak to taste: You can adjust any of the peanut dressing ingredients to taste.
Storage Instructions
If you'd like to prepare this Thai cabbage peanut salad in advance, you can prepare the vegetables and peanut sauce separately and store them in airtight containers in the fridge for 2-3 days in advance.
Thai peanut salad dressing tastes best when left to meld for at least an hour, but overnight is even better and will last up to 5 days in the fridge.
Once fully assembled, it's best to enjoy it immediately. However, any leftovers will last in an airtight container in the fridge for 2-3 days, softening over time.
We don't recommend freezing this crunchy Thai peanut salad because of all the fresh vegetables.
Serving Recommendations
This peanut salad makes for a hearty and well-balanced meal already. However, you can also serve it in smaller portions, like a peanut slaw, or as a side alongside:
More Vegan Thai Recipes
Photos by Alfonso Revilla
In a standard bowl, whisk together the peanut butter, water, garlic, ginger, soy sauce, vinegar, and sweetener, until thoroughly combined.

In a large bowl, add the romaine, cabbage, carrots, and cilantro.

Pour in the dressing and toss together. Sprinkle on the peanuts and plant-based protein, if using.
For a well-balanced meal: Make sure to include an added plant protein. For a heartier meal with carbs, also add noodles or quinoa.

To save time: Use pre-shredded ingredients or use a food processor shredding disk to get the job done in practically seconds.

Allow it to marinate: We recommend preparing the dressing in advance to allow the flavors to meld. An hour is great, but overnight is even better.  
Calories: 181kcalCarbohydrates: 17gProtein: 7gFat: 11gSaturated Fat: 2gPolyunsaturated Fat: 3gMonounsaturated Fat: 5gSodium: 365mgPotassium: 511mgFiber: 4gSugar: 8gVitamin A: 10365IUVitamin C: 39mgCalcium: 69mgIron: 1mg
Disclaimer: Although plantbasedonabudget.com attempts to provide accurate nutritional information, kindly note that these are only estimates. Nutritional information may be affected based on the product type, the brand that was purchased, and in other unforeseeable ways. Plantbasedonabudget.com will not be held liable for any loss or damage resulting for your reliance on nutritional information. If you need to follow a specific caloric regimen, please consult your doctor first.