As an Amazon Associate I earn from qualifying purchases.
This vegan lentil bolognese combines lentils, walnuts, and mushrooms for a super hearty, tender, umami-rich vegan bolognese big on flavor, fiber, and protein but a low-budget meal! It's also gluten-free, vegan, and soy-free!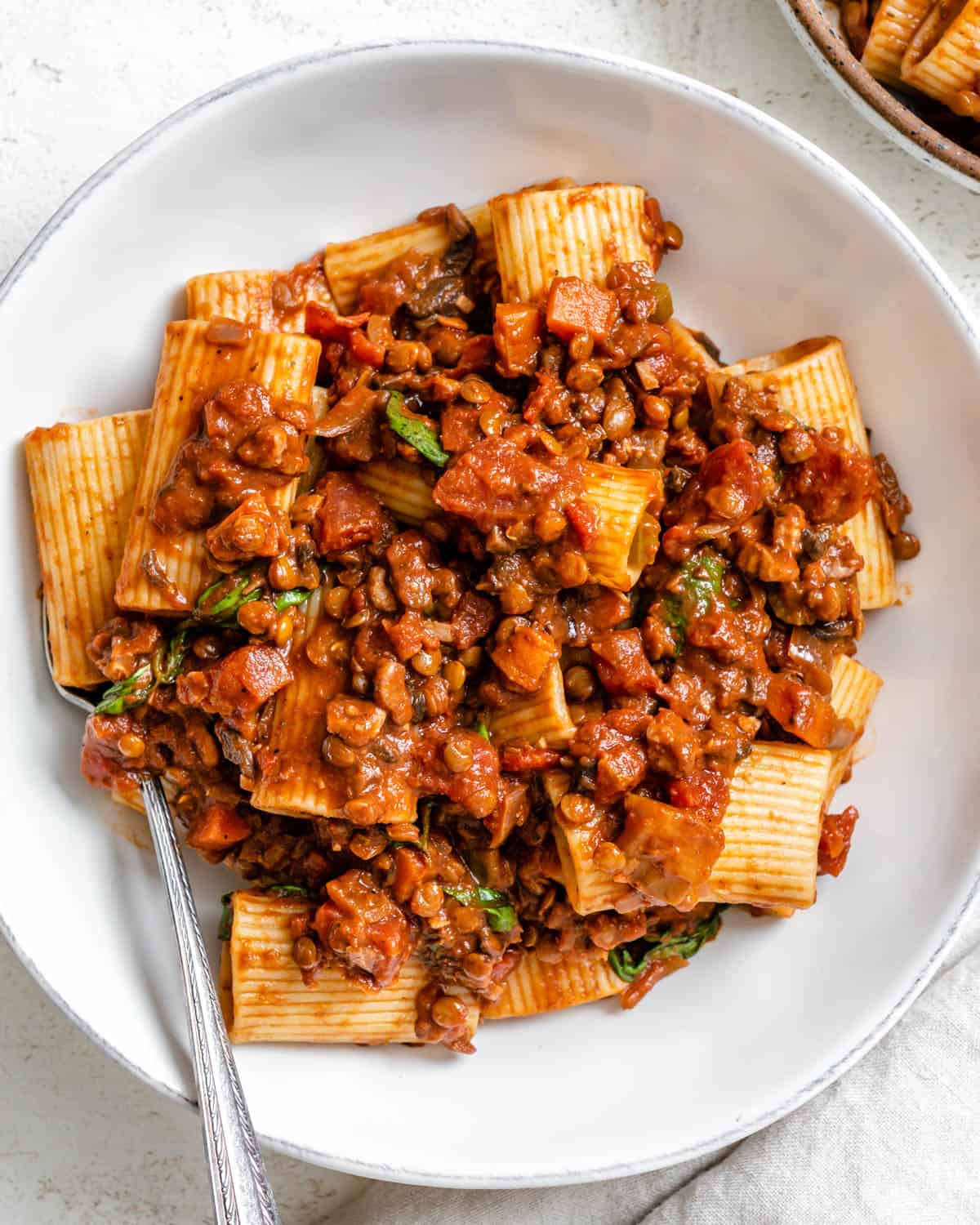 Hearty Vegan Lentil Bolognese with Walnuts
Lentils are a must-have in any low-budget vegan kitchen. They're inexpensive but hearty, versatile, and packed with fiber and plant-based protein to keep you full all day. We love using them to make soup, stews, vegan meatballs, and this hearty and comforting vegan lentil bolognese recipe!
This vegan bolognese combines the lentils with rich walnuts, tender, umami-dense mushrooms, and inexpensive pantry staples like canned tomatoes, and several dried herbs. By doing so, it remains budget-friendly but is packed with savory, umami-rich flavors, richness, and a thick, satisfying texture, perfect for replacing traditional bolognese.
Best of all, it comes together with just a dozen inexpensive kitchen/pantry staples in about 45 minutes. Enjoy it immediately with vegan spaghetti, mashed potatoes, or polenta, and/or save leftovers in the fridge or freezer for a low-effort, meal-prep-friendly meal when needed.
Is Lentil Bolognese Healthy?
Lentils, while humble and inexpensive, are a bit of a superfood. They're loaded with powerful plant compounds (polyphenols) and are a rich source of iron, plant-based protein, and slow-digesting dietary fiber. Studies even show they may benefit cholesterol, blood pressure, and blood sugar levels.
Meanwhile, walnuts provide richness to the vegetarian bolognese and are packed with nutrients, including protein, fiber, and heart-healthy omega-3 fatty acids. These are beneficial for heart, skin, eye, brain, and even mental health, while reducing inflammation.
When combined with several nutritious vegetables (carrots and mushrooms, this lentil walnut bolognese is a healthy, wholesome, and delicious (basically all the great adjectives) meal for the entire family!
The Ingredients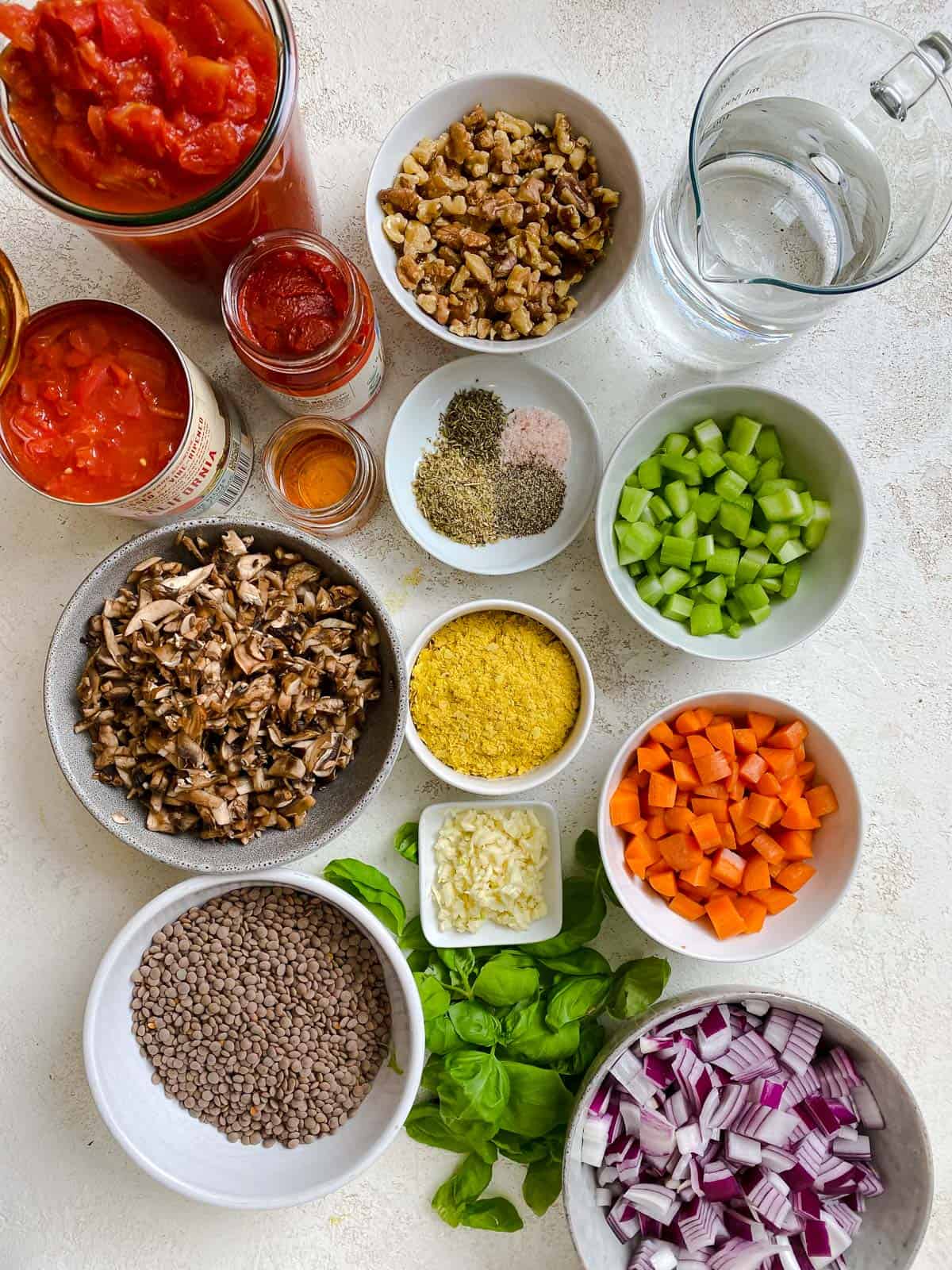 Lentils: It's best to use green or brown lentils, as they both hold their shape and have a 'bite.' Red lentils become mushy but will work in a pinch (cooking time varies). Here's a guide for more information.
Walnuts: Use raw, unsalted walnuts (or pecans) pulsed into crumbs in a mini food processor/ blender. For a nut-free version, use sunflower seeds OR hemp seeds.
Garlic: Fresh garlic cloves are best, but powdered garlic works in a pinch.
Vegetables: We use a classic, flavorful mirepoix base of yellow onion, carrot, and celery, as well as mushrooms (any I.e., cremini, white, button, chestnut, etc. Shiitake and oyster mushrooms are particularly 'meaty').
Tomatoes: You can use fresh diced tomatoes (if in season) or canned tomatoes (crushed or diced), plus tomato paste from a tube.
Water: Use vegetable stock (regular or reduced sodium) for more flavor.
Seasonings: You need a simple combination of pantry spices, like

Salt (or soy sauce for added umami)

Sweetener: You can use any sweetener: maple, agave, date paste, sugar, or sugar-free erythritol. This will help balance the acidity in the tomatoes.
Fresh herbs: (optional) like parsley and basil
What Else Could I Add?
Kale/spinach: Added in the last few minutes for extra nutrients.  
Veggies: Add more veggies by including some thickly chopped zucchini with the mirepoix. Shredded sweet potato would also work instead of or alongside the carrot.
Bay leaves: Add 1-2 to simmer in the sauce for more depth.
Balsamic vinegar: Use a good-quality balsamic if you have one in your pantry. Add it towards the end for added bright flavor and complex depth.
For spice: Add a pinch of red pepper flakes or chili/cayenne paper.
How to Make Vegan Lentil Bolognese?
1) First, sort through (to remove debris) and rinse the lentils. Then, finely dice the onion, carrot, celery, and mushrooms, and mince the garlic.
Alternatively, use a mini food processor to separately pulse the vegetables into your desired consistency.
2) Then, heat a medium saucepan or wide, deep skillet over medium heat with a swirl of oil.
3) Once hot, add the onion, garlic, carrot, and celery, and sauté for 3-4 minutes until they begin to soften.
If you have time, cook them for a few more minutes until they lightly brown for further flavor complexity in the walnut and lentil bolognese.
4) Pour in the vegetable broth to de-glaze, and stir well. Then add the tomatoes and cook, lid on, for 5-6 minutes until they start breaking down.
5) Add the tomato paste, water (or broth), oregano, thyme, and lentils. Stir, cover with a lid, and lower to a simmer.
6) Simmer the mixture for about 20 minutes, or until the lentils are soft and the sauce is thickening, then add the remaining ingredients and stir well. Adjust the seasonings to taste. Serve and enjoy!
To Make Lentil Spaghetti Bolognese
Cook the spaghetti (or your pasta of choice. Wide-shaped, like tagliatelle/ pappardelle, or pasta with ridges will help the sauce cling) alongside the lentil bolognese. If you want to add more veggies (like broccoli, cauliflower, or kale), you can cook them directly in the pasta water for the last few minutes.
When serving, save some of the pasta water to add to the bolognese. This starchy liquid will help the sauce cling to the pasta noodles.
FAQs
Can I use canned lentils?
This lentil spaghetti bolognese recipe was designed with dried lentils in mind. To make it with canned lentils, you'd need to reduce the water/broth, adding just enough to achieve your desired sauce consistency.
Do I need to soak the lentils?
It's not necessary, though soaking lentils (in a bowl with cold water for between 6-12 hours) can make them easier to digest, remove phytic acid, and reduce their cooking time by up to half—so monitor them closely.
How to thicken lentil bolognese?
It should naturally thicken as it simmers (and simmering it for longer will naturally reduce it further). If you want to thicken it further, add some cornstarch (start with a teaspoon of starch mixed with a little water into a slurry). Add it at the end and increase the heat, constantly stirring until it thickens. Repeat if necessary.
Can I substitute the mushrooms?
You could replace them with TVP or another vegan mince alternative or omit them entirely, optionally adding extra lentils or other veggies.
Top Recipe Tips and Notes
To save time: Use a pre-prepared mirepoix mixture, chopped mushrooms, etc. Alternatively, use a food processor to blitz the veggies until coarsely chopped.
Adjust the consistency: Instead of chopped veg, you could shred the vegetables for a smoother mouthfeel.
The simmer time: Like soups and stews, simmering the vegan bolognese for longer will help to develop the flavors further. Add more broth if it becomes a little too thick.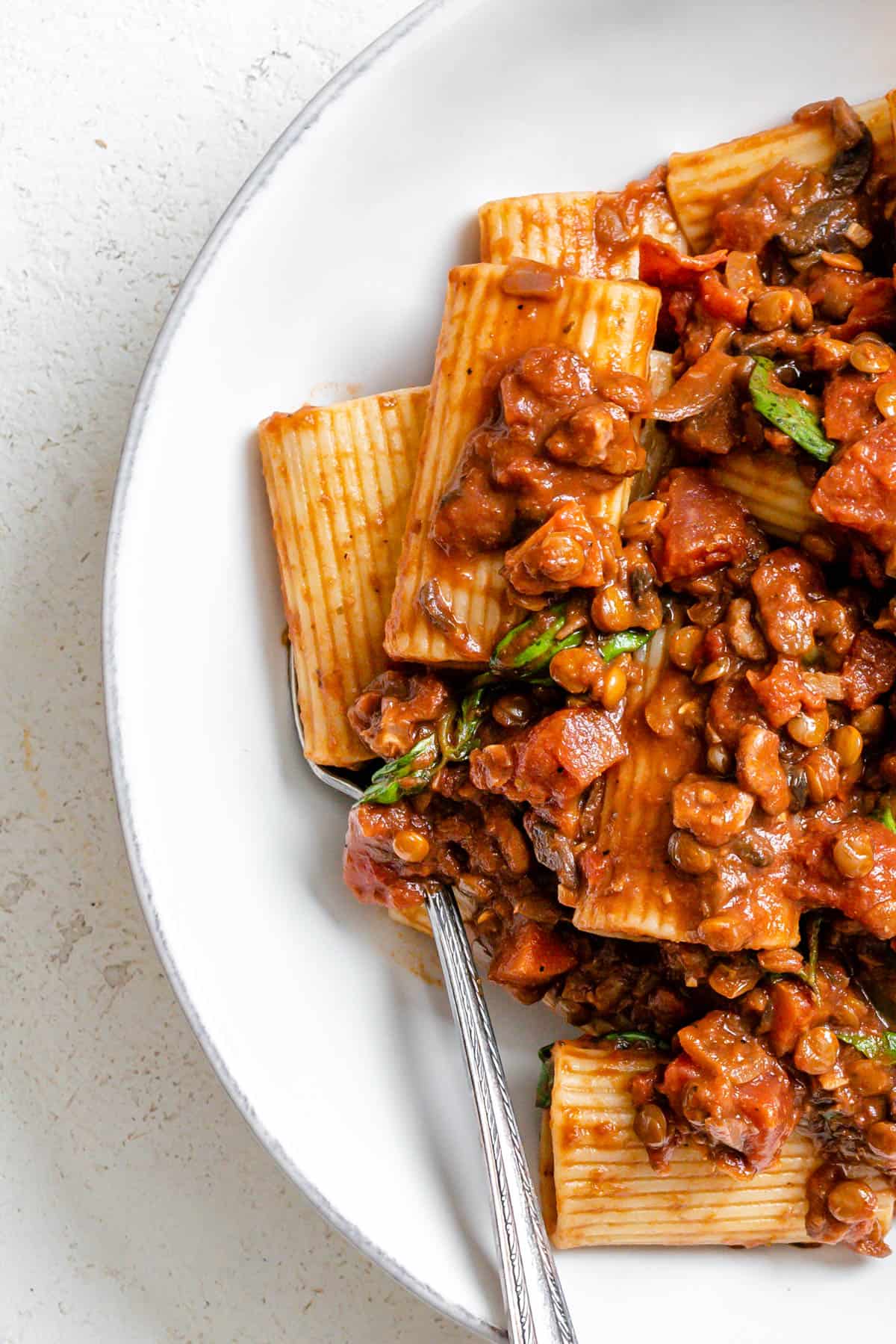 What to Serve with Lentil Bolognese?
How to Store?
Once cooked, store any leftover walnut lentil bolognese in an airtight container in the fridge for up to 5 days.
It will also freeze well in a freezer-safe Ziplock/Stasher bag or container for 2-3 months. Leave it to thaw in the fridge overnight before reheating it in the microwave or on the stovetop. If it's too thick, add a little more water/vegetable broth.
More Vegan Lentil Recipes
Photos by Alfonso Revilla
Saute onion, garlic, carrots, celery, and mushrooms in a bit of olive oil over medium heat, in a medium pot or wide, deep skillet, for 3-4 minutes.

When softening and lightly browning, stir well to combine. Add tomatoes and cook with lid on for 5-6 minutes over medium heat until tomatoes start to break down. Add remaining ingredients, tomato paste through lentils, and bring to a gentle boil then cover and lower to a simmer.

Let cook for 20 minutes or so until lentils are soft and the sauce is thickening. Add the remaining ingredients, walnuts through nutritional yeast. Only add walnuts at the very end of cooking, if you add them earlier and continue to cook the sauce, they will turn black. After you add walnuts and herbs turn off the heat and stir well to combine. Serve over pasta of choice with steamed or sautéed veggies added in. We like to throw a few cups of broccoli, cauliflower or kale into the pasta water in the last minute of cooking and then drain all together – perfect every time! Toss pasta with sauce to coat thoroughly and serve hot. Enjoy!
To save time: Use a pre-prepared mirepoix mixture, chopped mushrooms, etc. Alternatively, use a food processor to blitz the veggies until coarsely chopped.

Adjust the consistency: Instead of chopped veg, you could shred the vegetables for a smoother mouthfeel.

The simmer time: Like soups and stews, simmering the vegan bolognese for longer will help to develop the flavors further. Add more broth if it becomes a little too thick.
Calories: 340kcalCarbohydrates: 49gProtein: 18gFat: 11gSaturated Fat: 1gPolyunsaturated Fat: 7gMonounsaturated Fat: 1gSodium: 960mgPotassium: 1439mgFiber: 18gSugar: 16gVitamin A: 5162IUVitamin C: 43mgCalcium: 124mgIron: 6mg
Disclaimer: Although plantbasedonabudget.com attempts to provide accurate nutritional information, kindly note that these are only estimates. Nutritional information may be affected based on the product type, the brand that was purchased, and in other unforeseeable ways. Plantbasedonabudget.com will not be held liable for any loss or damage resulting for your reliance on nutritional information. If you need to follow a specific caloric regimen, please consult your doctor first.